THE MASTERPIECE SOCIETY
episode #13 of 5th season / Air Date: 2/10/92; Dir:
Winrich Kolbe
written by
Adam Belanoff
, Michael Piller, Story by
James Kahn
, Adam Belanoff
The Enterprise is following a very dense stellar core fragment (part of a Neutron Star) and find out that it will pass very near a planet that has a heretofore undetected human colony, which will be destroyed by its passage. They then find out that the colony was founded 7 generations ago and designed to be perfectly balanced via genetic engineering - the inhabitants each are designated for their ideal job at birth and there's never any disharmony.
This has similarities to the enclosed world of
Logan's Run
(1976) and the
TOS
episode
Plato's Stepchildren
, not to mention the scary eugenics we've seen with Khan (
Space Seed
) and his people. This episode, however, goes for a cerebral approach - there's nothing sinister or hidden about this society; they have similar values to the Federation; they just have an important distinction: the people need to stay to maintain the perfect balance. They frown on outsiders coming in, upsetting the fragile balance temporarily, but realize the necessity this time. There are risks...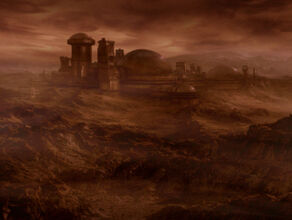 This was an interesting concept overall; the enclosed city itself is intriguing - it's built in the middle of a desolate wasteland and the interior is very nice for humans. It's the kind of civilization that would be built by scientific geniuses, perhaps as an experiment. Only, the experiment would last and be successful only as long as some external threat like this stellar fragment didn't appear. I didn't really understand Picard's usual fretting near the end about interference and the prime directive again. He seems to miss this salient point - that interference and thinking 'outside the box' would at times be required for this society to continue. Nothing is ever actually perfect, is it?
At the same time, Picard fumes about the science of genetic engineering (no doubt thinking about the dangers of Khan and similar results), stating that mankind rightfully moved away from such tinkering because it was antithetical to free choice and self-determination, including exploration of the unknown. He's correct but he also seems to want it both ways: imperfect people like La Forge were instrumental in solving the problem here but Picard begrudges the method in which this was done.
This has intelligent writing and good guest characters, played by John Snyder and Dey Young; they know, intellectually, that they must adhere to the precepts of their carefully constructed society, but their human impulse is to seek out the new, the stimulating, the unexplored - they cannot resist this. Human nature and a million years of evolution win out over the past 100 years of genetic planning. BoG's Score: 7.5 out of 10
Last edited by BoG on Sun Jan 09, 2011 4:34 pm; edited 1 time in total


Similar topics
---
Permissions in this forum:
You
cannot
reply to topics in this forum