THE MAQUIS
Parts One & Two
(
Prod.#440,441
)
Directors
:
David Livingston
;
Corey Allen
written by
Rick Berman
, Michael Piller,
Jeri Taylor
, James Cocker and
Ira Steven Behr
The Maquis
are the freedom fighters/terrorists of the 24th century in Star Trek, depending on who is speaking about them. This group had its origins in a late
TNG
episode,
Journey's End
. The Maquis do not like Cardassians, thinking that these sneaky aliens are always taking advantage & being underhanded (not to mention the occasional too-rough interrogation). The plot starts with a Cardassian ship blowing up as it leaves DS9 - sabotage. Sisko reunites with old buddy Lt. Commander Hudson (Bernie Casey), who functions as a kind of head liaison between Federation colonists and Cardassians. Then, Gul Dukat (Marc Alaimo) unexpectedly shows up in Sisko's quarters and the two form a strange partnership to get to the bottom of it all. Meanwhile, Quark deals with a Vulcan female who wants to procure weaponry. These scenes are tedious, emphasizing Quark's seduction techniques - spare me!

The tension stems from land disputes and heavy-handed politicking, making this 2-part episode a kind-of follow-up to the 3-parter at the start of the season. However, this one lacks a verve or a good pace. I never quite saw a reason it was a 2-parter as it seemed to drag everything out; by the end of the 1st part, I was tired of listening to characters talking about who maybe did what and which aliens may be smuggling weapons. There were awkward portions to the dialog, as well. Sisko & Hudson talking about Dax behind her back seemed 'off' and other moments of DS9 personnel getting angry seem forced. Also - a Vulcan terrorist? No mention of why a logical pacifist would be involved in such violent activity.
The best scenes transpire to be the ones between Sisko and Dukat, which may explain why Dukat eventually became one of the more popular
DS9
characters. Alaimo sort of comes into his own here, offering a complex portrait of a ruthless military cog, yet tempered by some admirable personality traits; he and Sisko get along surprisingly well, despite a rough start. Their conversations (they spend time in a runabout together) are actually interesting. Sisko also makes a now-famous speech about Earth being a paradise in this century; for this reason, many Earth reps, including those in Starfleet, cannot relate to such desperation as practiced by the Maquis.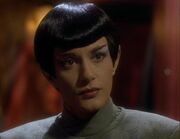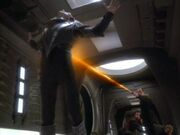 Casey as Hudson reminded me of his earlier performance in another science fiction story for TV, the 1980 version of Bradbury's
The Martian Chronicles
. He played a similar, if 15 years younger, character in that mini-series. I don't think there was any surprise associated with Hudson's arc; but, I could be wrong.

BoG's Score: 6 out of 10
Extra Deep Trivia
:
The Maquis would return in a few
DS9
episodes and played a large role in the
Voyager
series.

---
Permissions in this forum:
You
cannot
reply to topics in this forum