Air Dates: 11/17 & 11/24/66
THE MENAGERIE, Parts One & Two
(
1st season, episode #16
)
_ Directed by Marc Daniels -> older footage Directed by
Robert Butler
writer:
Gene Roddenberry
>
ABOVE
: Remastered Starbase 11, with new FX
BELOW
: the original shot of Starbase 11
This was the only 2-part episode on
TOS
, necessary at the time because such a sci-fi show was a hassle to get done on time back then. Roddenberry was able to incorporate most of the footage from the 1st pilot,
The Cage
, shot a couple of years earlier. As a side effect, this was also the closest the original series probably came to presenting an epic episode; audiences, back then, were not aware of the pilot and it seemed as if the producers spent double the money on this episode, presenting an entire 'other' Enterprise crew of another time on top of the current one. So, it was like a Trek version of a historical epic, presenting over a dozen years of Starfleet history.
The plot begins as a space mystery; the Enterprise is diverted to Starbase 11 for unknown reasons and, pretty soon, Spock is a suspect. Even as McCoy belabors the fact that subterfuge on Spock's part is not possible due to his Vulcan heritage, it turns out that Spock is indeed acting out some mutinous scheme to shanghai the starship and kidnap his former captain, Pike, who is now horribly crippled. Well, Spock is half-human, we tend to forget - or has he simply gone mad? He directs the ship towards a planet named Talos IV, which is strictly off-limits. When the jig is up, there's a great scene of Spock surrendering to a flabbergasted McCoy, as Uhura looks on in shock.
_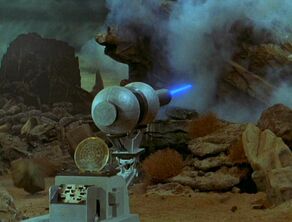 Later in the episode, the audience begins to see transmitted images of an Enterprise mission from 13 years earlier, when Captain Pike was commanding and Spock was one of his officers. It's all a bit odd and we don't know where it's all heading, and that makes this a very good 2-parter: we really need to find out what it's all about in the 2nd part. Not only is Spock in serious trouble but it looks like Kirk's career may be finished as well. Things may have wrapped up too easily at the very end (the death penalty threat evaporated) but Pike's final fate was about as good as TV science fiction gets. BoG's Score: 8.5 out of 10
Extra Trek Trivia
: though Pike of the past was obviously portrayed by Jeffrey Hunter in footage from
The Cage
, the crippled & scarred Pike of the present episode was played by actor Sean Kenney. Commodore Mendez (Malachi Throne) is in charge of Starbase 11, last seen in
Court Martial
, when it was commanded by Commodore Stone; some sources list Starbase 6 in this episode, but that starbase was mentioned in
The Immunity Syndrome
; confusing enough?
Since this two-part episode was about the length of an actual film, a remastered version was screened in actual select theaters in recent times.
remastered trailer
:
Last edited by BoG on Sat May 02, 2015 10:34 pm; edited 3 times in total
CLASSIC TREK QUOTES:
McCoy: (to security officers) "Mr. Spock is, um, under arrest. (to Spock) Is confinement to quarters enough?"
Spock: "Adequate, doctor; I'll make no trouble."
McCoy: (to security guards, exasperated) "Well, confine him!"

Mendez: "The court is not obliged to view evidence without knowing its source."
Spock: "Unless the court asks a prisoner 'why' commodore; you did ask that question."
Mendez: "You mean I was maneuvered into asking! Your evidence is out of order."
Kirk: "I'm forced to contest that, commodore. I want to see more."
Mendez: "You have that right, captain. But just because the prisoner is your first officer and your personal friend..."
Kirk: "That has nothing to do with it."



Kirk: "Do you know what you're doing? Have you lost your mind?"
Spock: "Captain – Jim, please! Don't stop me – don't let him stop me. It's your career, and Captain Pike's life; you must see the rest of the transmission."
Kirk: (to security guard) "Lock him up."



---
Permissions in this forum:
You
cannot
reply to topics in this forum