SAMARITAN SNARE
- episode #17 of 2nd season / Air Date: 5/15/89
written by
Robert L. McCullough
; Directed by
Les Landau
This is another one with two separate storylines, but they do converge at the end. The first one concerns Picard; it's established here that he has an artificial heart - his original heart was skewered when he was a cadet and had picked a fight with some hostile Nausicaans. Picard relates this incident to Wesley; this was later visualized in the episode
Tapestry
. For some reason, Picard's replacement heart is faulty and Pulaski pulls medical rank on him, forcing him to go get it replaced at a starbase. Picard's starchy (even stuffy) reserve surfaces here; he's unhappy about people finding out about his 'weakness.'
The other story concerns La Forge and the Pakleds. The Pakleds are the dunces of the Trek universe. The Enterprise responds to their distress call and find out that these Pakleds appear to be too stupid to make repairs to their own ship. Here's typical Pakled dialog: "
It is broken
" / "
We look for things.
" / "
Things we need
" / "
Things to make us go
" - this amuses the bridge crew, though it is irritating to listen to. La Forge beams over to the Pakled ship to help 'em out; it seems a simple job. The irony here is that the Pakleds are not the only ones to behave stupidly in this episode.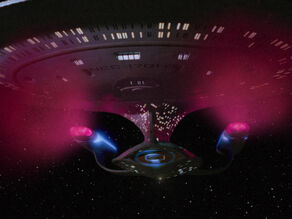 Troi rushes onto the bridge and tells everyone that La Forge is in danger; she senses that the Pakleds have another agenda. Riker basically ignores her warning. Sure enuff - the Pakleds, though stupid, are also devious and barbaric; they hold La Forge hostage for weaponry, stunning him with a phaser multiple times. The eventual solution by the bridge officers seems like a lot of effort on their part; if they have this much trouble with the biggest idiots of the galaxy... well, no wonder they ran away from the Borg, eh? Maybe this was meant to illustrate the weakness of naivete...? BoG's Score: 5 out of 10
DivX® is a registered trademark of DivX, Inc.
http://labs.divx.com/WebPlayer
Last edited by BoG on Fri Jan 07, 2011 12:33 am; edited 1 time in total


Similar topics
---
Permissions in this forum:
You
cannot
reply to topics in this forum