FIRST CONTACT
15th episode of 4th season / Air Date: 2/18/91
Directed by
Cliff Bole
; written by: many, story by
Marc Scott Zicree
This episode was what it was all about, wasn't it? - becoming acquainted with new planets & civilizations. It's actually a wonder that there weren't more episodes like this, but this one ended up being slightly unusual. The story is presented from the perspective of the alien people of Malcor III, so Picard and his crew become, in essence, guest characters in their own show. Therefore, the Malcorians are not really the aliens in this episode - they're the resident lifeforms; the Enterprise crew are the visiting aliens from outer space.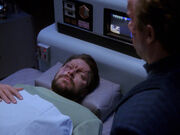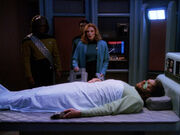 This episode also recalls some old
Twilight Zone
episodes (the initial story was by the writer of
The Twilight Zone Companion
); the world of Malcor III is much like our own, late 20th century, but just with a few things that are 'off' - they're slightly different biologically; their day has 29 hours and so on. The local government has recently instituted many 'social reforms' and now is about to advance towards space exploration. This appears to be the proper time for the Federation to initiate First Contact with them. But, there's a glitch: Riker, in disguise as part of a ground reconnaissance, has been accidentally injured in a riot and taken to the local hospital; there, he's prematurely revealed as some strange alien.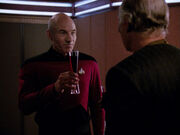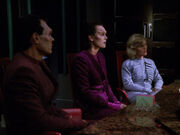 The society presented here is composed of odd contradictions. It has apparently risen recently from some 'Dark Age' and there are citizens such as Mirasta (Carolyn Seymour) who are intelligent scientists, questing for answers about the universe. The leader, Chancellor Durken (George Coe) - sort of like a President of the world - is a thoughtful, reasonable man. But, there are also people like the minister of security, who prefers strict adherence to traditional ways and is nearly irrational in opposing new ideas. It seems that much of the population, perhaps a slight majority, are still stuck to old ways of thinking and are fearful of anything or anyone who is different.
Most of all, many of them still believe themselves to be the only intelligent beings in the universe and their world as the center of it all. This is a bit odd, considering that their technology has advanced to the point that they're on the verge of activating warp drive, but maybe it's not that weird; a good portion of our population in the early 21st century still has similar beliefs - that we are the ultimate product of this universe.
The episode has many interesting scenes - the first time that Picard & Troi beam down and introduce themselves to Mirasta; Mirasta's astounded reactions to them and during her tour of the Enterprise; the first meeting with Durken. There's a lot of intelligent dialog and the actors are all excellent (the story has many writers, as if they all did their best to get it right). The whole situation is very tricky; Picard needs to tread carefully, hopefully establish permanent relations and overcome any fears the populace might have. His first step is to gain the trust of the leadership; but, this is all complicated by Riker's 'capture' - now it looks like Picard's people have been spying on this civilization. This entire endeavor is like threading a cosmic needle - one misstep and it all collapses.
There is one amusing scene of Riker getting seduced by a local nurse (Bebe Neuwirth) who has always fantasized about bedding an alien, but mostly this is a very sober, no-nonsense look at one of the more important & difficult aspects of Starfleet's mission. It also shows that things may not go smoothly in such a balancing act of a mission, even with the near-perfect Starfleet officers (a key scene points out that even Picard makes mistakes). This points the microscope or telescope at us, at our possible future selves and at any society which is challenged by big change. We might sneer at the short-sightedness of some characters here but are they really so much different than us? And, can we really blame them and look down at their suspicions? - I refer you to the TV Mini-Series
V
; Remember how that turned out? BoG's Score: 8 out of 10
TNG Trivia
: actress Seymour had appeared on
TNG
twice in other episodes as a Romulan, notably as the commander in
Face of the Enemy
. Bebe Neuwirth also shows up as a fan of aliens. Picard mentions a disastrous past Contact with the Klingons which led to decades of war, but this was naturally messed up by the re-wiring done on the
Enterprise
show.
DivX® is a registered trademark of DivX, Inc.
http://labs.divx.com/WebPlayer
Last edited by BoG on Fri Jan 07, 2011 11:41 pm; edited 1 time in total
for Fans of CSI: Miami - then you'll get the joke:



Similar topics
---
Permissions in this forum:
You
cannot
reply to topics in this forum